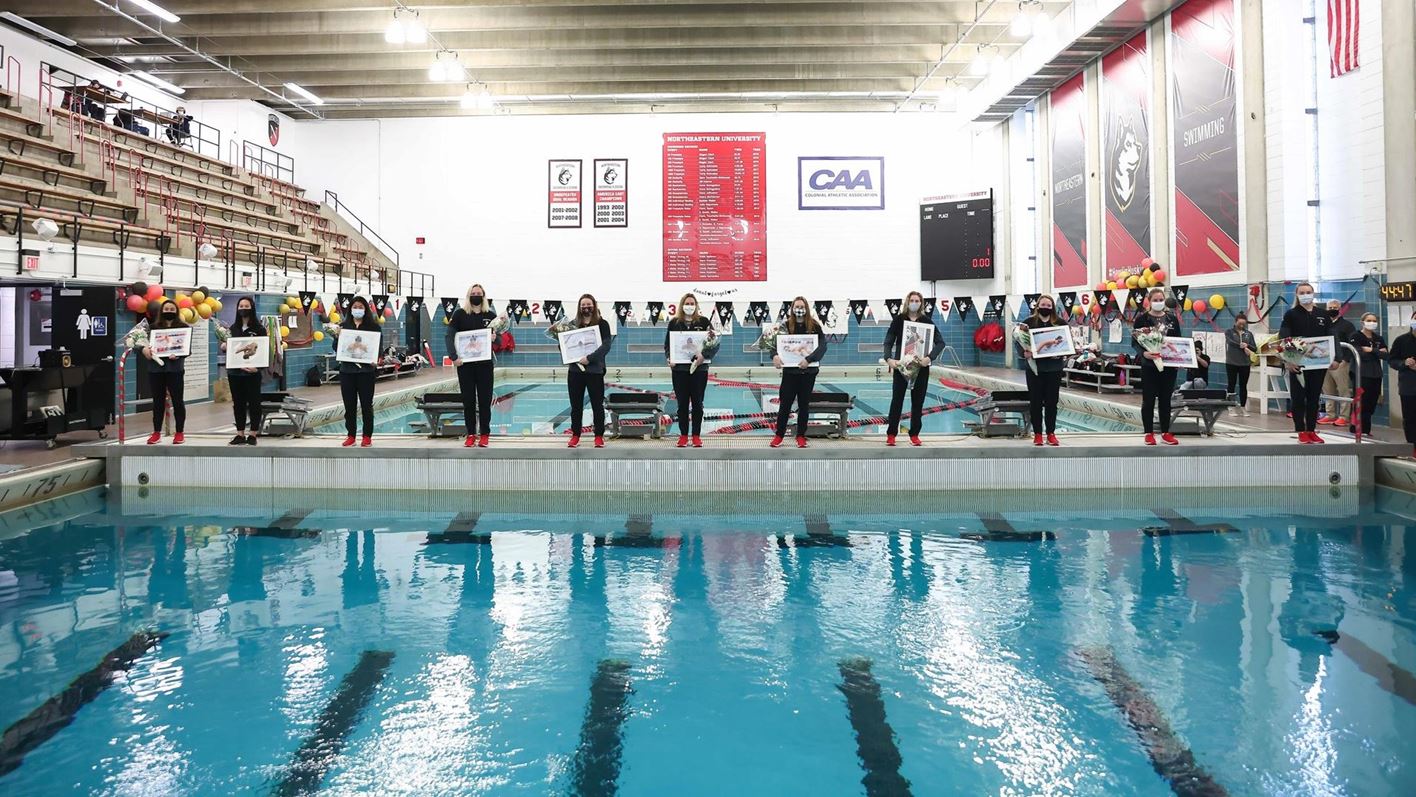 Courtesy: Northeastern Athletics
BOSTON – Seniors Klara Juliusson, Emma Metzger and Matilda Weiler picked up wins, and Jadyn Koss posted season-best scores on the 1- and 3-meter springboards to steer Northeastern in a Senior Day Digital Intrasquad Meet on Saturday inside Barletta Natatorium. The Huskies acknowledged Cloe Bedard-Khalid (captain), Sabrina Chan, Alicia Iizuka, Juliusson (captain), Megan Kelley, Kristina Kirchoff (captain), Bailey Klafehn, Koss, Metzger, Weiler and Joanna Wojciechowska earlier than the meet.
Juliusson received the 100 breaststroke with a time of 1:07.94, Metzger clocked a season-best time of 10:57.72 to complete first within the 1000 freestyle, and Weiler received the 200 IM with a time of two:16.97. Koss tallied season-best scores of 215.85 (1-meter) and 212.71 (3-meter), whereas Kirchoff swam the second leg of the successful 200 medley relay workforce (1:52.44) and Kelley led off the successful 200 free relay workforce (1:42.09).
Tallying runner-up finishes for the seniors had been Klafehn within the 50 free (25.03) and Wojciechowska within the 500 free (5:19.80). Bedard-Khalid touched the wall in third place within the 100 backstroke (1:04.20) and Iizuka ended the 100 breaststroke (1:11.86) in third place.
Different Huskies with a first-place end immediately had been Katherine Hong within the 100 backstroke (58.95), Grace Miller within the 200 free (1:55.90) and 500 free (5:09.89), Lena Wang within the 200 breast (2:33.39), and Alyssa Reilly within the 200 butterfly (2:14.94). Elly Morrison received the 1-meter and 3-meter springboards this afternoon, tallying a season-best rating of 266.93 on the 3-meter board, and Jamie Koo made her season debut for the Huskies, successful the 50 free (24.32) and 100 free (55.08) with the second-fastest instances of the season.