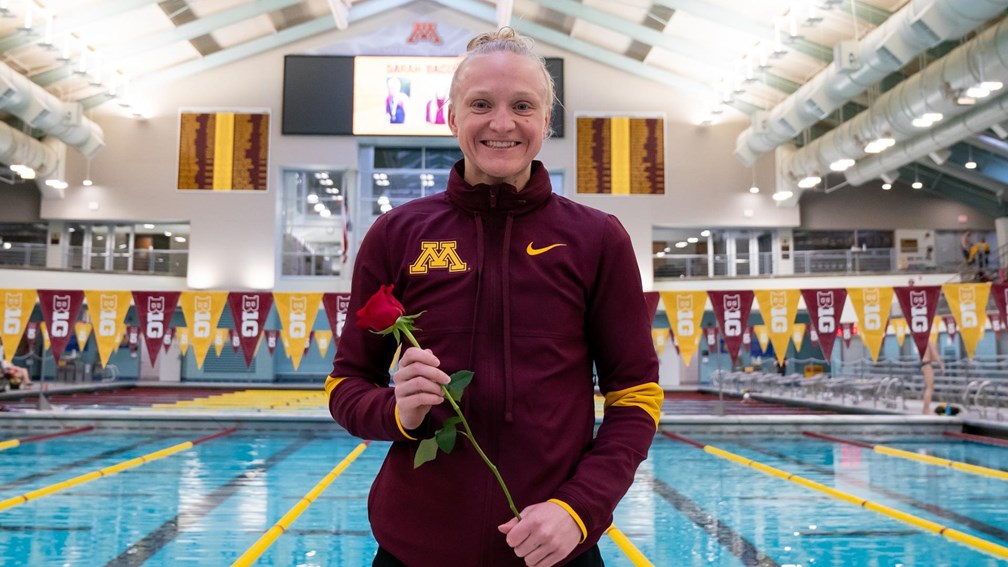 University of Minnesota diver Sarah Bacon has been named the Honda Sports Award winner for swimming & diving for the 2020-2021 season. That makes her the first-ever diver to take the honor.
The Honda Sport Award has been presented annually by the CWSA for the past 45 years to the top women athletes in 12 NCAA- sanctioned sports and signifies "the best of the best in collegiate athletics".  The winner of the sport award becomes a finalist for the Collegiate Woman Athlete of the Year and the 2021 Honda Cup, which will be presented on a telecast on CBS Sports Network on June 28th at 9 pm ET.
Bacon was chosen by a vote of administrators from over 1,000 NCAA member schools. Finalists included Sophie Hansson (NC State), Maggie MacNeil (Michigan) and Paige Madden (Virginia).
"I really appreciate being nominated for this award", said Bacon. "To say I am honored to have received this amongst the other three amazing female swimmers is such an understatement! I am grateful for this and want to say a huge thank you and shout out to everyone who has helped me along the way in my collegiate career, especially Wenbo Chen."
Bacon, an Olympic hopeful who has said she is not planning to take advantage of the extra season of college eligibility afforded by the NCAA, won the 1-meter and 3-meter springboard diving titles at the 2021 NCAA Championship meet. She has now won the last 3 titles on 1-meter after winning in 2018 and setting the NCAA Championship Record in the event in 2019.
Bacon finishes her career as a four-time NCAA diving champion, 8-time CSCAA All-American, two-time Big Ten Diver of the Year, 2021 CSCAA Division I Women's Diver of the Year, and the winningest woman in Minnesota school history in any sport.
Overall, she is an 11-time medalist in national and international diving competitions. She was a gold medalist in the 1-meter dive at the 2019 USA Diving National Championship and the 2019 Pan American games. In addition, she is a three-time 3-meter gold medalist in synchronized diving having won at the 2019 USA Diving Winter National Championships and the 2020 FINA Grand Prixs in Germany and Spain.
"I think it's great for her because she's put in a lot of time and worked very hard at being the best that she can be", stated head diving coach Wenbo Chen. "This is a special year for her, not just because of the pandemic, but because of all she's gone through with taking an olympic year last year that was postponed to this year. She's been training so hard for that, so she absolutely deserves this award. She's put a lot into this sport."
The CWSA, celebrating its 45th anniversary year, has honored the nation's top NCAA women athletes for their superior athletic skills, leadership, academic excellence and eagerness to participate in community service.  Since commencing its partnership in 1986, Honda has provided more than $3.4 million in institutional grants to the universities of the award winners and nominees to support women's athletics programs.
Bacon is the first Minnesota women to win a Honda Sports Award in any sport, in spite of the school's powerful history in volleyball, among other sports.
Swimmers have gone on to win the Collegiate Sports Woman of the Year 9 times, which is second only to basketball (15 times).
| | |
| --- | --- |
| Year | Winner |
| 2020-21 | Sarah Bacon, University of Minnesota |
| 2019-20 | Abbey Weitzeil, University of California |
| 2018-19 | Lilly King, Indiana University |
| 2017-18 | Simone Manuel, Stanford University |
| 2016-17 | Katie Ledecky, Stanford University |
| 2015-16 | Kelsi Worrell, University of Louisville |
| 2014-15 | Missy Franklin, University of California |
| 2013-14 | Felicia Lee, Stanford University |
| 2012-13 | Allison Schmitt, University of Georgia |
| 2011-12 | Caitlin Leverenz, University of California |
| 2010-11 | Katinka Hosszu, University of Southern California |
| 2009-10 | Julia Smit, Stanford University |
| 2008-09 | Dana Vollmer, University of California |
| 2007-08 | Caroline Burckle, University of Florida |
| 2006-07 | Kara Lynn Joyce, University of Georgia |
| 2005-06 | Mary DeScenza, University of Georgia |
| 2004-05 | Kirsty Coventry, Auburn University |
| 2003-04 | Tara Kirk, Stanford University |
| 2002-03 | Natalie Coughlin, University of California |
| 2001-02 | Natalie Coughlin, University of California |
| 2000-01 | Misty Hyman, Stanford University |
| 1999-00 | Cristina Teuscher, Columbia University |
| 1998-99 | Martina Moravcova, Southern Methodist University |
| 1997-98 | Misty Hyman, Stanford University |
| 1996-97 | Kristine Quance, University of Southern California |
| 1995-96 | Kristine Quance, University of Southern California |
| 1994-95 | Jenny Thompson, Stanford University |
| 1993-94 | Nicole Haislett, University of Florida |
| 1992-93 | Janel Jorgensen, Stanford University |
| 1991-92 | Summer Sanders, Stanford University |
| 1990-91 | Leigh Ann Fetter, University of Texas |
| 1989-90 | Janet Evans, Stanford University |
| 1988-89 | Jenna Johnson, Stanford University |
| 1987-88 | Betsy Mitchell, University of Texas |
| 1986-87 | Mary T. Meagher, University of California |
| 1985-86 | Jenna Johnson, Stanford University |
| 1984-85 | Mary T. Meagher, University of California |
| 1983-84 | Tracy Caulkins, University of Florida |
| 1982-83 | Tracy Caulkins, University of Florida |
| 1981-82 | Tracy Caulkins, University of Florida |
| 1980-81 | Jill Sterkel, University of Texas |
| 1979-80 | Jill Sterkel, University of Texas |
| 1978-79 | Joan Pennington, University of Texas |
| 1977-78 | Renee Laravie, University of Florida |
| 1976-77 | Melissa Belote, Arizona State University |