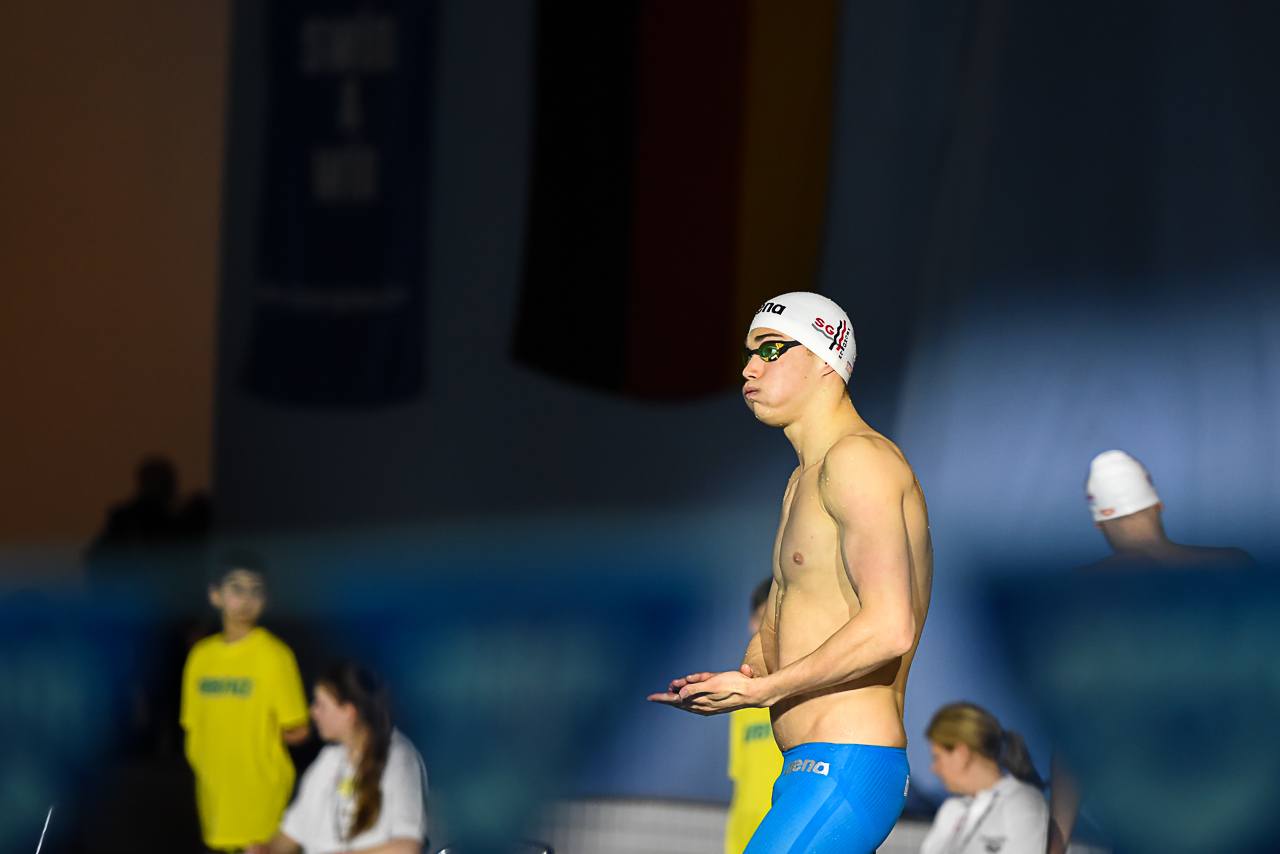 2021 GERMAN OLYMPIC TRIALS – BERLIN
This meet is the last chance for German swimmers to secure spots on their 2020 Olympic team as the  German qualification period ends April 18th. Friday's finals session will see swimmers contest the 200 freestyle, 100 breaststroke, 100 butterfly and 100 backstroke.
Lukas Matzerath highlighted the 100 breast in prelims, posting a lifetime best of 59.63, getting under the Olympic qualifying cut and touching the wall in 1st.  University of Texas' Anna Elendt was only about half-a-second off the qualifying cut in the 100 breast as she earned the top spot in finals with a time of 1:07.65.
A particularly close race to watch will be the men's 200 free where multiple swimmers are close to the Olympic qualifying cut of 1:46.70. In prelims, Lukas Märtens led the charge with a time of 1:46.96 followed by Jacob Heidtmann (1:47.00) and Henning Mühlleitner (1:47.77).
The 100 fly is actually missing Germany's fastest woman during this qualification period, Angelina Köhler, who had to withdraw after reportedly being infected by the coronavirus. Her best time during the period is set at 58.63 and if no one is able to beat that time she will be the first in line for the 4×100 medley relay spot. In prelims, the closest swimmer was Lisa Höpink (59.39).
Marek Ulrich, who retired in 2018 and made a comeback in 2019, nearly cracked the Olympic qualifying time in the 100 back this morning with a time of 53.75.  He should have a close race with 2nd seed Ole Braunschweig who was only .13 behind him in prelims.
Men's 200 Freestyle
Top 3 Qualifiers:
Lukas Märtens – 1:46.41
Jacob Heidtmann – 1:46.98
Poul Zellmann – 1:47.53
Lukas Märtens of SG Magdeburg was the first to crack an Olympic qualifying time, undercutting it by one-third 0f a second. Going into this meet his lifetime best was 1:47.24 from December. Close behind was Heidtmann, narrowly missing the cut. Both swimmers were the only ones to break 53 seconds on the first 100 meters in the A final. In 3rd place was Poul Zellmann from SG Essen, just over a second behind Märtens.
Women's 200 Freestyle
Top 3 Qualifiers:
Isabel Gose – 1:56.93
Annika Bruhn – 1:57.17
Leonie Kullmann – 1:57.64
18-year-old Isabel Gose battled it out with Olympic veteran Annika Bruhn in this event, with both swimmers ultimately beating the German Olympic qualifying standard of 1:57.20. Gose also broke a 25-year-old age group record that was set by Franziska van Almsick in 1996 at 1:58.14. Almsick won silver at the 1996 Olympic Games in this event. Leonie Kullmann took 3rd place about half-a-second behind Bruhn,
Women's 1500 Freestyle
Top 3 Qualifiers:
Sarah Köhler – 15:52.20
Jeannette Spiwoks – 16:26.09
Celine Rieder – 16:27.74
The mile final was a 3-woman heat today with Olympic veteran Sarah Köhler taking 1st place well under the Olympic qualifying standard of 16:16.00. Notably, Köhler has already secured a spot on Germany's Olympic roster in this event as well as the 800 free. Jeannette Spiwoks and Celine Rieder had an incredibly tight race, finishing about a second-and-a-half apart. Rieder has already cracked the German Olympic qualifying standard during the qualification period.
Men's 100 Breaststroke
Top 3 Qualifiers:
Women's 100 Breaststroke
Top 3 Qualifiers:
Men's 100 Butterfly
Top 3 Qualifiers:
Women's 100 Butterfly
Top 3 Qualifiers:
Men's 100 Backstroke
Top 3 Qualifiers:
Women's 100 Backstroke
Top 3 Qualifiers: