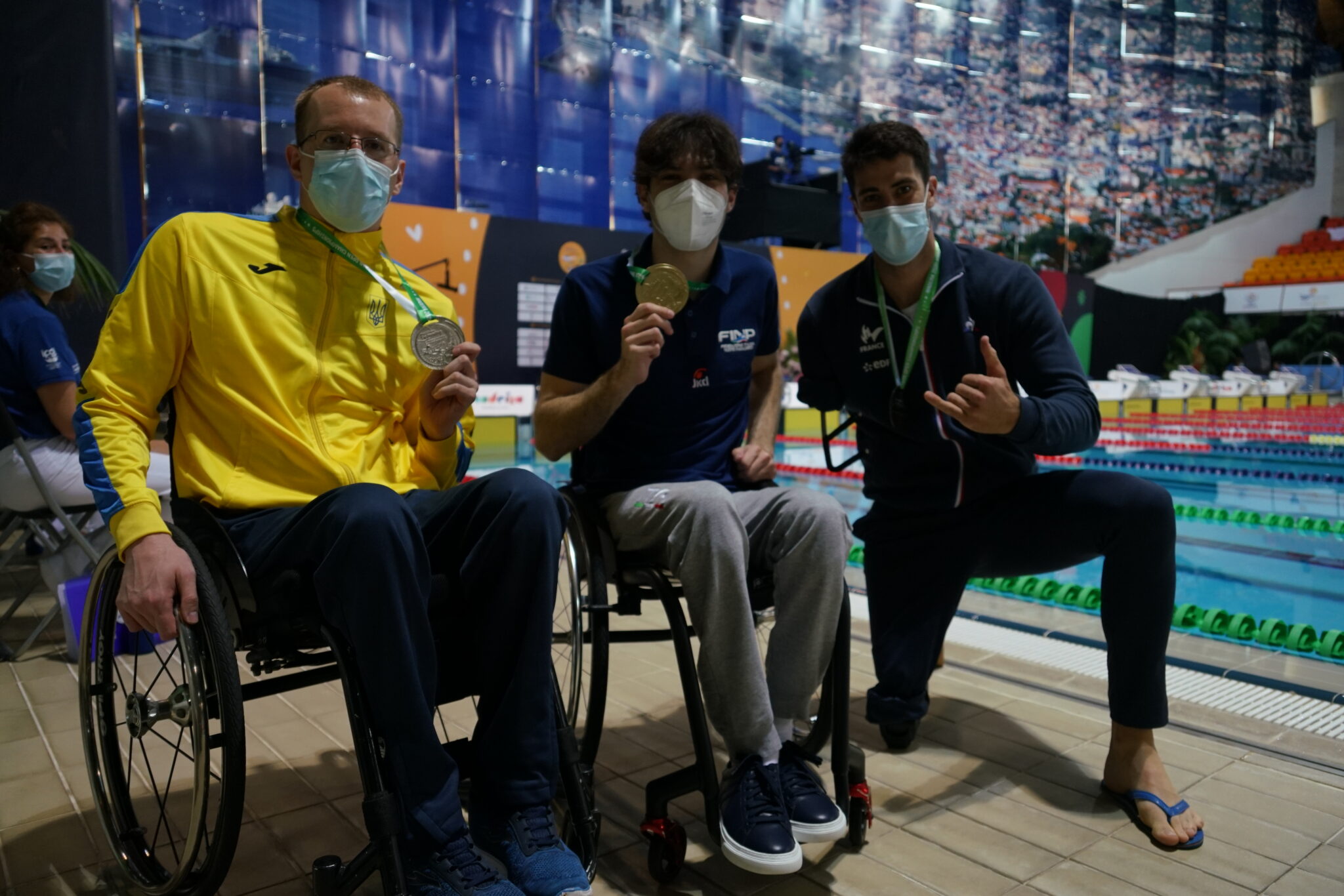 2021 WORLD PARA SWIMMING EUROPEAN CHAMPIONSHIPS
May 16th – 22nd, 2021
Penteada Swimming Complex, Funchal, Madeira
Long Course Meters (50m)
Prelims @9:30am local time
Finals @5:30pm local time
Two World Records and a European Record were crushed on the second day of the 2021 World Para Swimming European Championships.
In the men's 100 free S6 final, Italy's Antonio Fantin shattered his World Record twice in one day. In prelims, he set it at 1:04.01, breaking the previous record of 1:04.52 set by himself in April. In the final, he destroyed that time by winning the event with a time of 1:03.76.
Israel's Ami Omer Dadaon cracked the second World Record of the night in the men's 100 free S4 final by going 1:19.77, breaking the previous World Record set by Russia's Roman Zhdanov in 2019. Dadaon touched the wall first while Zhdanov snagged 2nd place in the finals today (1:24.08).
In the men's 200 IM SM9 final: France's Ugo Didier broke the European Record by.34, touching the wall first at 2:16.04 to break the record previously held by Russia's Andrei Kalina in 2012. Kalina took 2nd place today (2:17.20).
Brazil's Gabriel Bandeiras set the Americas record twice in the men's 100 back S14 event, once in prelims (1:02.23) and then again in finals (59.95). Bandeiras also cracked the Americas record in the 200 free S14 final on day 1 with a time of 1:55.37. Looking at the results, it is unclear what the previous records were set at, only that he broke them.
Great Britain's  Jessica-Jane Applegate has been another driving force during these Para Swimming European Championships, winning both of Great Britain's gold medals so far and helping them to 8th place in team standings in a tie with France. She won the 200 free S14 final yesterday and claimed victory in the 100 back S14 final on day two.
"I really struggled on the 200m Freestyle for fitness, and my backstroke has always been hit-and-miss. So I'm super happy – that's up there with my best times, so I'm really happy with that time," she said, according to British Swimming's press release.
"It's a massive confidence boost, because I don't normally train backstroke, so I'll probably work on that a bit more going forward! Like I said yesterday, training has been really tough, it's great to see these times without much training, so I can't wait to see what Tokyo can hold.
Regarding how the coronavirus pandemic has altered her training this past year, Applegate said, "I've spent a lot of time training in a swim spa outside. It's been tough, but mentally, I think if I can deal with that challenge, I can deal with anything else."
Top 5 Teams After Day 2
| | | | | | |
| --- | --- | --- | --- | --- | --- |
| | Nation | Gold | Silver | Bronze | Total |
| 1 | Italy | 11 | 8 | 9 | 28 |
| 2 | Ukraine | 9 | 5 | 6 | 20 |
| 3 | Russian Federation | 5 | 9 | 7 | 21 |
| 4 | Spain | 4 | 6 | 8 | 18 |
| 5 | Germany | 3 | 2 | 3 | 8 |