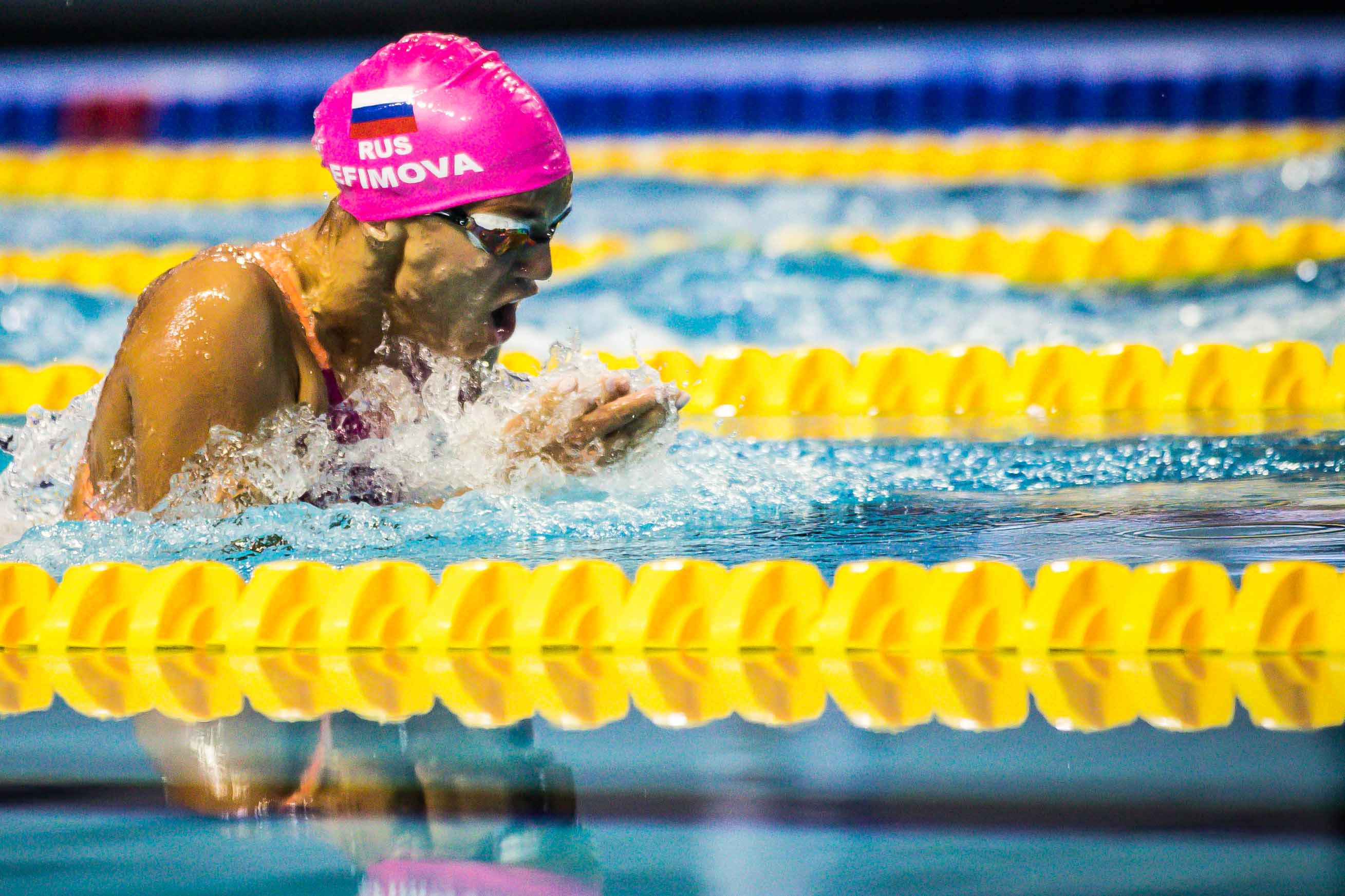 2021 RUSSIAN NATIONAL SWIMMING CHAMPIONSHIPS
The penultimate night of swimming from the 2021 Russian Olympic Trials will feature four individual finals, including another head-to-head showdown between current world #1 Evgeniia Chikunova and reigning two-time world champion Yuliya Efimova in the women's 200 breaststroke.
We'll also see another back-to-back world champion, Evgeny Rylov, race the men's 200 backstroke, while an intriguing battle is brewing in the men's 200 IM, with three men set to battle for two Olympic spots.
In the women's 100 freestyle, Maria Kameneva is the clear favorite, but the question will be if anyone else can get under the FINA 'A' cut of 54.38.
Day 6 Finals Live Stream
https://www.youtube.com/watch?v=IvTbYKi5J40
Women's 200 Breast Final
Evgeniia Chikunova, 2:21.63
Maria Temnikova, 2:22.76
Yuliya Efimova, 2:24.16
16-year-old Evgeniia Chikunova pulled away from Maria Temnikova on the last 50 to win the women's 200 breaststroke in 2:21.63, improving her on her world-leading time of 2:21.87 set back in October.
The swim marks Chikunova's second-fastest performance ever, only trailing her 2:21.07 from the 2019 European Juniors.
While it wasn't a surprise to see Chikunova win, it was an unexpected sight to see Yuliya Efimova, the two-time reigning World Champion in the event, unable to step up and solidify an Olympic spot in this race.
Trailing Chikunova and Temnikova by a second at the 100m wall, Efimova had no answer, as Temnikova broke the 2:23-barrier for the first time to qualify for the Olympic team in 2:22.76.
Efimova, one of the few women who has been sub-2:20 in history, was a distant third in 2:24.16. The Olympic silver medalist in this event in 2016, Efimova will only be racing the 100 breast individually in Tokyo.
As Chikunova improves her world #1 time, Temnikova moves into the top 5 for the 2020-21 season, edging GBR's Abbie Wood by .01 for fifth.
2

Molly




Renshaw

GBR
2:22.08
02/12
3

Lilly




King

USA
2:22.13
03/26
4

Annie




Lazor

USA
2:22.23
03/26
5

Abbie




Wood

GBR
2:22.77
02/12
Belarusian Alina Zmushka had lowered her National Record in the semis down to 2:24.33, and led through the halfway mark here in 1:09.41 before fading to fifth in 2:26.41.
Men's 200 Back Final
Russian Record: 1:53.36, Evgeny Rylov (2018)
FINA 'A' Cut: 1:57.50
Evgeny Rylov, 1:53.23
Grigory Tarasevich, 1:57.54
Alexey Tkachev, 1:58.36
Evgeny Rylov soared to a new European Record in the men's 200 back final, blasting to a final time of 1:53.23 to lower his previous mark of 1:53.36 set at the 2018 Euros.
Rylov's swim marks the seventh-fastest in history, while he remains the fifth-fastest performer of all-time.
All-Time Performances, Men's 200 Back (LCM)
Aaron Peirsol (USA), 1:51.92 – 2009
Ryosuke Irie (JPN), 1:52.51 – 2009
Ryosuke Irie (JPN), 1:52.86 – 2009
Ryan Lochte (USA), 1:52.96 – 2011
Aaron Peirsol (USA), 1:53.08 – 2009
Mitch Larkin (USA), 1:53.17 – 2015
Evgeny Rylov (RUS), 1:53.23 – 2021
Ryosuke Irie (JPN), 1:53.26 – 2014
Mitch Larkin (AUS), 1:53.34  – 2015
Evgeny Rylov (RUS), 1:53.36 – 2018
Compared to his previous record from 2018, Rylov was actually a tad slower at the 100, but was stronger coming home, specifically on the third 50 (splitting 28.72 here compared to 29.34 two years ago).
In second place, Grigory Tarasevich painfully missed the FINA 'A' cut by .04 in 1:57.54, leaving him off the Olympic roster.
Alexey Tkachev rounded out the podium in 1:58.36 for third, overtaking Nikolay Zuev (1:58.85) and Maksim Fofanov (1:59.09) late with a strong 29.66 final 50.
Women's 200 Back Semi-Finals
Russian Record: 2:04.94, Anastasia Fesikova (2009)
FINA 'A' Cut: 2:10.39
Daria K. Ustinova, 2:11.32
Anastasia Klyarovskaya, 2:12.19
Irina Krivonogova, 2:14.75
Anastasia Duplinskaya, 2:15.07
Elizaveta Agapitova, 2:15.11
Angelina Nikiforova, 2:15.25
Anastasia Avdeeva, 2:15.35
Renata Gaynullina, 2:16.20
Daria K. Ustinova established the top semi-final time in the women's 200 back from the first heat, clocking 2:11.32 to lead the pack into tomorrow's final.
Ustinova owns a best time of 2:06.92 from 2016.
Anastasia Klyarovskaya followed up by winning the second semi in 2:12.19, not far off her best of 2:11.81, to qualify second overall.
Men's 200 IM Final
Russian Record: 1:58.00, Ilya Borodin (2020)
FINA 'A' Cut: 1:59.67
Andrey Zhilkin, 1:57.50
Ilya Borodin, 1:59.35
Daniil Pasynkov, 2:01.18
Andrey Zhilkin unloaded a wire-to-wire performance in the men's 200 IM, out-splitting the field on all four 50s en route to breaking the Russian Record in 1:57.50.
Zhilkin's swim lowers the previous mark of 1:58.00, set by Ilya Borodin last year.
Zhilkin, who owned a previous best time of 1:58.16, makes the Olympic team with this swim, while Borodin was the runner-up in 1:59.35, giving him a second individual event in Tokyo.
The 26-year-old Zhilkin now ranks in a tie for fourth in the world for 2020-21.
2

Mitch




Larkin

AUS
1:56.32
12/15
3

Phillip




Heintz

GER
1:56.42
12/30
4

Jeremy




Desplanches

SUI
1:57.50
03/19
5

Hubert




Kos

HUN
1:57.58
03/24
Women's 100 Free Final
Maria Kameneva, 53.56
Arina Surkova, 54.41
Elizaveta Klevanovich, 54.64
Men's 100 Fly Semi-Finals
Russian Record: 50.83, Andrei Minakov (2019)
FINA 'A' Cut: 51.96
Mixed 400 Medley Relay Final
Russian Record: 3:40.78 (2019)