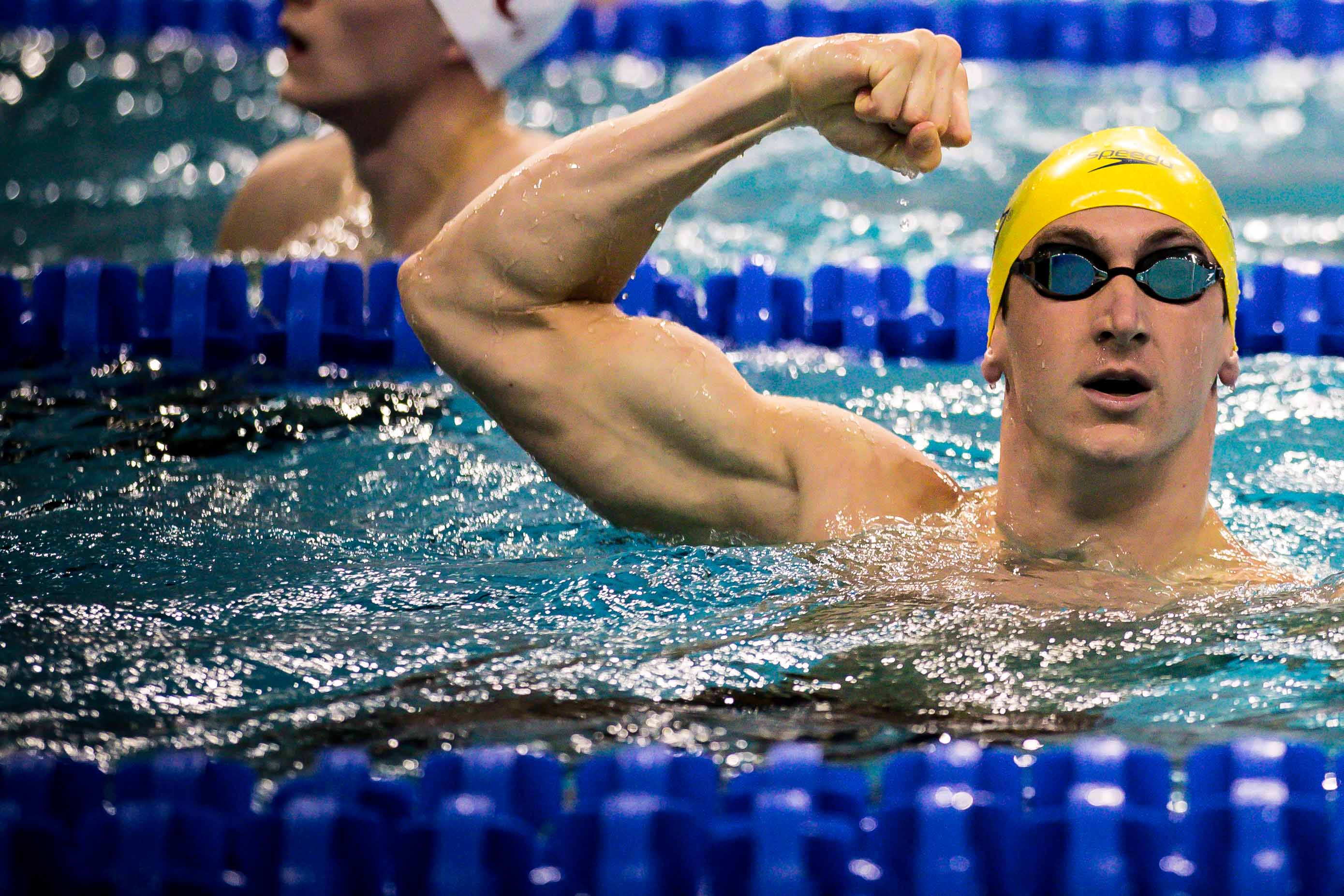 2021 MEN'S  PAC-12 CHAMPIONSHIPS
Cal juniors Hugo Gonzalez and Reece Whitley look primed to repeat as Pac-12 champions tonight in the 400 IM and 100 breast, while any one of Daniel Carr, Destin Lasco and Bryce Mefford could win the 100 back for the Bears.
Where Cal's unbeaten streak at this meet is really at risk comes in the 100 fly and 200 free, where several men are in the running for the victory.
Ryan Hoffer will look to win a seventh straight 100 fly crown for the Bears and defend his title, but he'll need to be at his best with USC's Nikola Miljenic leading the prelims in 45.59 and Stanford freshman Ethan Hu the fastest swimmer in the field this season at 45.47. Arizona senior Noah Reid will also be a factor after setting a lifetime best of 45.90 this morning.
In the 200 free, Trenton Julian comes in looking to repeat for Cal, coming off his standout showing in the 500 free where he set new meet and Cal school records. Cardinal freshman Preston Forst is a huge threat after splitting 1:31.68 on the 800 free relay (Julian was 1:31.52), and USC's Alexei Sancov is riding high after setting his first best time in the event in three years on the relay lead-off (1:32.69). The Trojan junior was also the fastest in the prelims in 1:32.97.
The session will finish up with the 200 medley relay, where Cal will aim for a fifth straight title. Carr and Hoffer have both featured on the last three winning teams, while Whitley has been on the last two. We'll likely see Hoffer on fly (he's done free each of the past three seasons) and freshman Bjorn Seeliger on the freestyle.
Also note that while finals are listed as started at 6:00 pm Central time, tonight's heat sheets indicate that the first heat of the session, the 400 IM consolation final, won't hit the water until 6:25.
TEAM SCORES (THRU DAY 2 + DIVING)
Stanford, 339
Cal, 334
Arizona, 271
Utah, 235
USC, 190
400 IM FINAL
Pac-12 Record: 3:35.29, Abrahm DeVine (STAN), 2018
Pac-12 Championship Record: 3:36.60, Hugo Gonzalez (CAL), 2020
NCAA 'A' Cut: 3:39.16
2020 Champion: Hugo Gonzalez (CAL), 3:36.60
100 FLY FINAL
Pac-12 Record: 44.18, Austin Staab (STAN), 2009
Pac-12 Championship Record: 44.66, Austin Staab (STAN), 2011
NCAA 'A' Cut: 45.05
2020 Champion: Ryan Hoffer (CAL), 44.85
200 FREE FINAL
Pac-12 Record: 1:30.14, Andrew Seliskar (CAL), 2019
Pac-12 Championship Record: 1:31.07, Andrew Seliskar (CAL), 2019
NCAA 'A' Cut: 1:32.05
2020 Champion: Trenton Julian (CAL), 1:33.17
100 BREAST FINAL
Pac-12 Record: 50.04, Kevin Cordes (ARIZ), 2014
Pac-12 Championship Record: 50.78, Carsten Vissering (USC), 2019
NCAA 'A' Cut: 51.67
2020 Champion: Reece Whitley (CAL), 50.85
100 BACK FINAL
Pac-12 Record: 43.49, Ryan Murphy (CAL), 2016
Pac-12 Championship Record: 44.14, Zachary Poti (ASU), 2020
NCAA 'A' Cut: 44.95
2020 Champion: Zachary Poti (ASU), 44.98
200 MEDLEY RELAY TIMED FINAL
Pac-12 Record: 1:21.82, USC, 2018
Pac-12 Championship Record: 1:22.16, Cal, 2020
NCAA 'A' Cut: 1:24.30
NCAA 'B' Cut: 1:24.97
2020 Champion: Cal (Carr, Whitley, Sendyk, Hoffer), 1:22.16